Fatima Aihoud
Organisational Support Manager
---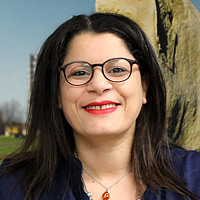 Fatima contributes to the day-to-day facilities management and office coordination across Shoreditch Trust sites. 

Fatima engaged with the Trust as a volunteer in 2008. Since 2009 Fatima has worked at the Trust supporting operational functions including reception and office coordination. Fatima has a significant amount of experience as part of the core team, developing and supporting organisational systems and ensuring the smooth running of day to day operations.
Prior to working at the Trust, Fatima worked in hospitality and marketing. Fatima loves working for a local charity that supports the Hackney community where she has lived for more than 10 years.
In her spare time Fatima loves to socialise with her family and friends and is a keen sportswoman.
Based at Head Office, Orsman Road
Fatima is involved in:
Waterhouse Restaurant
Pigeon Towers