Jaimie Persson
---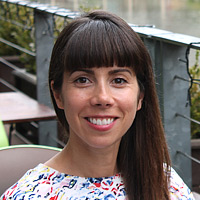 Jaimie was appointed Deputy Chief Executive (Maternity Cover) in January 2019. Prior to this she was Director of Organisational Wellbeing.
Jaimie is an Organisational Psychologist and Coach and has previously managed projects for the Trust related to Health, Wellbeing and Community Engagement, including the Trust's Community Champions and Bump Buddies projects.
In addition to her role at the Trust, Jaimie is Co-Founder of ACT3 Psychology, and an Associate Researcher at the Centre for Psychological Wellbeing and Neuroscience, City, University of London.
Jaimie has lived in East London for 16 years and is proud to be part of Shoreditch Trust's inspiring work in Hackney and neighbouring boroughs.
Tel.: 020 7033 8568
Based at Head Office, Orsman Road
Jaimie is involved in:
Workspaces