Femi Ade-Davis
Project Manager, Young People¦ Safeguarding Lead
---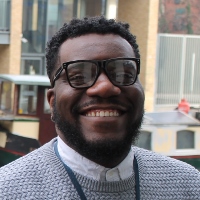 Femi is the project manager for Shoreditch Trust's Young People programme which includes Blue Marble Training, housed at the Trust's social enterprise training restaurant, WaterHouse.

Femi is responsible for the day-to-day and strategic management of the programme, working closely with the head chef to devise training and developmental programmes and work plans that engage young people training as chefs.

Prior to Shoreditch Trust, Femi worked as an employment broker for the long-time unemployed at Talent At-Work, before taking on a number of community regeneration project management roles at Newlon Fusion and then Newlon Housing Trust.

Femi is a film and creative writing graduate.
Based at Head Office, Orsman Road
Femi is involved in:
Young People