Carol Robinson
---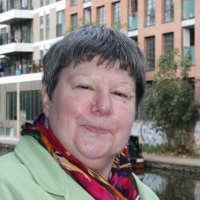 Carol is a Community Coordinator at New Kingshold Community Centre and Stamford Hill Community Centre. Her role involves working with people in Hackney who want to get involved in all the activities in our area, especially if they have been feeling isolated or lonely. She joined the team in October 2017.
Carol is a Northerner but has lived for in London for over twenty years, the last ten of them in Hackney so she knows the area well and loves it's rich creative vibe.
Carol has a background in the entertainment industry, tutoring, training and coaching and she is passionate about finding ways to help people develop their communication skills.
Carol is involved in:
Community Connections