Joana Olim
---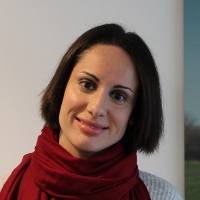 Joana is a Community Coordinator. She provides long-term support to stroke survivors and their families (including one-to-one outcome-based support planning, advocacy, advice, and information). She also manages the Stroke Specialist Exercise Groups (Standing/Chair Based), the Younger Stroke Survivors Group (YSS) and one of the High Care/Supported Groups.

Joana is a dedicated professional with more than seven years' experience of managing projects that focus on health, community engagement and sustainable behaviour change.

She has an excellent understanding of the interdependency of the biological, social and psychological needs of older people. She completed her Degree in Senior Education in 2009. She is also specialist in Business Strategy and Planning - in 2014 she completed her Executive MBA in International Business Management, and in 2015 she completed her Master's Degree in Business Management – Specialisation in Business Strategy and Planning. Joana is also specialist in marketing (Brand Management; Digital Marketing).

Joana has held various job positions previously (including project manager, fundraiser, official representative, traineeship supervisor, strategist, market researcher, and consultant), but really loves engaging with the community and delivering sustainable behaviour change!


Joana is involved in:
Community Connections
Stroke Project