Food for Life
Free cooking groups for everyone in Hackney who wants to learn about eating well on a budget.
---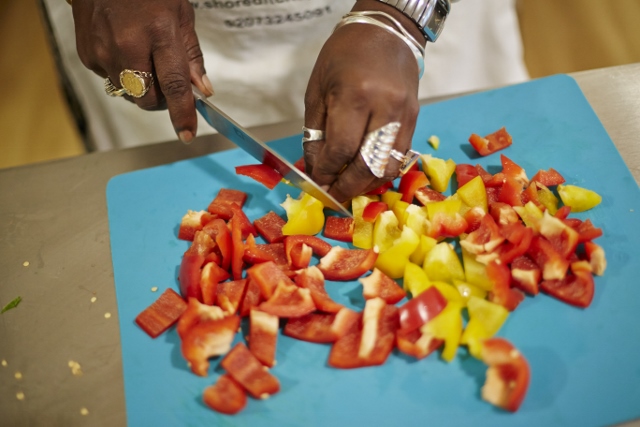 Why come?
Food for Life runs cooking groups across Hackney, and they're all completely FREE! Whether you're an expert cook or you're new to cooking, 'Food for Life' groups will help you prepare quick, tasty, affordable meals.
The recipes are easy to understand and use fresh, everyday ingredients that are in season. The groups are led by tutors and volunteers, who know lots about food and eating well.
Who can come?
Everyone in Hackney! There are special groups for adults, children, new mums, families, and stroke survivors, so everyone can get the help they need to learn.
You don't need to know how to cook, our friendly tutors and volunteers will support you every step of the way.
There are also healthy tips and tricks for more advanced cooks and chance to share your recipes.
When and where are the courses?
Each group is around 2 hours long. The courses usually last 6 weeks. Groups take place in community centres and halls across Hackney, including:
Shoreditch Trust Healthy Living Centre in Hoxton
Banister House Community Hall in Homerton
Stamford Hill Community Centre
New Kingshold Community Centre near Hackney Central
Get in touch if you would like to request a cookery course in your school, youth group or community centre.
What should I bring?
You do not need to bring anything. We'll provide all of the equipment and ingredients.
Please wear comfortable shoes with closed toes, no high heels, and a good grip (e.g. trainers or sneakers). You will need to tie your hair back if it is long.
How much does it cost?
All of the groups are free. The courses are funded by Hackney Council as part of the One You programme.
How can I book or find out more?
Join our mailing list to receive information about the next courses.
To book a place email food@shoreditchtrust.org.uk or call 020 7033 8529.