Volunteering
Globally connected, locally engaged. Volunteers make the world a better place!
---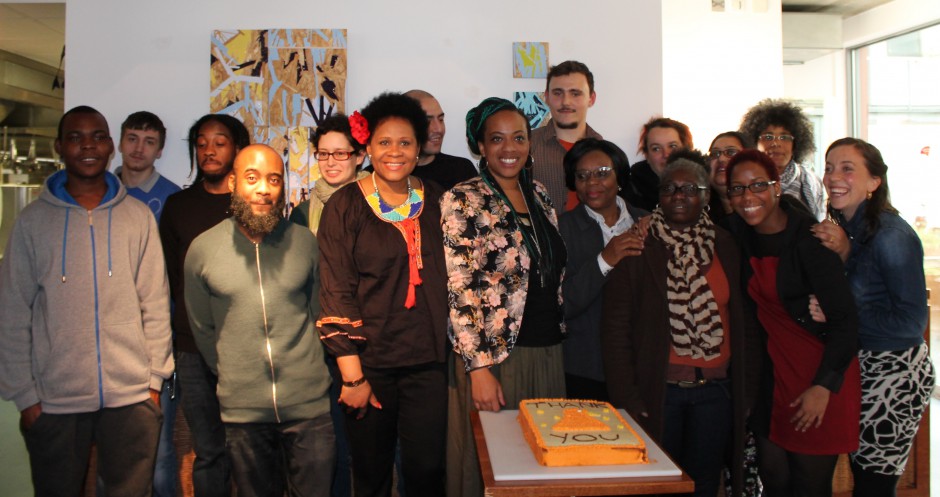 Volunteering at Shoreditch Trust
Shoreditch Trust volunteering is linked to the British Council 'Active Citizens' programme. Volunteers give a few hours a week to support people in Hackney. We have lots of different volunteer opportunities. For example you could:
Help to run cooking classes for families with Food for Life.
Support new mums and pregnant women who are nervous about giving birth through Bump Buddies.
Lead local walks with Peace of Mind.
Help in our office with communications or administration.
Set up rooms and help with tea and coffee at Stroke Project groups.
Teach activities like dancing, woodwork or sewing.
Join staff at home visits, checking people using our services are feeling ok.
Accompany people who are nervous to new activities through Community Connections.
Share your knowledge and experience of Hackney and tell people about local useful services.
Why volunteer?
Volunteering can help you feel happier and healthier, improve your skills, or help you get a job.
Past Shoreditch Trust volunteers have used their experience to help manage mental health problems, increase confidence, learn new skills and share their passions.
Some have found jobs as support workers, administrators or on the staff team, others have joined training courses to become health workers or found a new direction in life.
Who can volunteer?
Anyone aged 18 or over can apply to volunteer. You will need to complete the registration form (we can help with this if reading and writing are difficult).
You will also need to undergo a criminal records screening (sometimes called a DBS or CRB check) but you can often still volunteer if you have been in prison or have a criminal record.
How much time do I need to give?
We ask all volunteers to commit to volunteering for at least 3-6 months.
Most of our volunteering takes place Monday to Friday, between 9:00am and 5:00pm. 
Some people volunteer for a few hours a week, some give a day or two.
We will pay travel to and from your volunteering. If you volunteer for a whole day we will cover the cost of your lunch. Unfortunately we cannot provide childcare. Well behaved dogs are welcome by arrangement if you volunteer in our offices.
Volunteer Training
We will give you all the training you need to become a volunteer. Training takes four days, and includes everything from keeping safe, to communicating well. We will provide breakfast and lunch during your training, and cover your travel costs. 
The Shoreditch Trust volunteer training is run in partnership with the British Council's Active Citizens programme.
Active Citizens is a social leadership training programme that promotes intercultural dialogue and community led social development. It runs in countries all over the world. As well as training, the programme offers a few lucky volunteers the chance to travel to other countries to visit other charities.
"My trip to Sudan can only be described as overwhelming and humbling. I had the opportunity to meet local Active Citizens in London through Shoreditch Trust's work, but to meet Sudanese Active Citizens in their homes and communities gave me a completely different perspective on what the programme means and can achieve."
Edouard, former Active Citizens participant and Shoreditch Trust team member
Apply to volunteer
To register as a volunteer please download and complete the volunteer application form and return it to info@shoreditchtrust.org.uk. 
We are running two rounds of volunteer training in the near future.
Autumn 2019:  Monday 14 October to Friday 18 October 2019
Winter 2020: Monday 27 January to Friday 31 January 2020
Times: 9.30am to 3pm
Venue: Shoreditch Trust Healthy Living Centre, 170 Pitfield Street, London, N1 6JP. 
Company volunteering
We welcome companies who would like to give their time and skills to help people in Hackney. This might be:
Sponsoring and helping at our Elder's Feasts – meals for older people who are lonely or isolated.
Community gardening at the Healthy Living Centre.
Sharing your skills with staff e.g. public speaking, presenting, marketing or I.T.
Arranging Christmas gifts for people using our services.
You can also give support by booking meeting and conference catering from Waterhouse Restaurant (our social enterprise), hiring meeting rooms at the Healthy Living Centre, or running fundraising events.